Give the gift of adventure and an unique experience of puzzle solving with family, friends, or team building!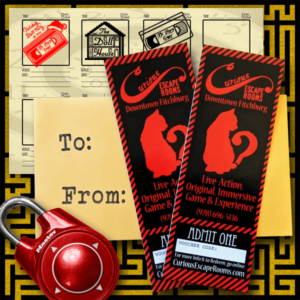 Curious Escape Rooms is a home of many different worlds for your pleasure, they may choose their own adventure:

• The Dollhouse
• Holiday Staff Party at the 90s Video Store (seasonal)
• The 90s Video Store (closed during seasonal games)
Current private game prices
(Please confirm with booking page. Last updated, 10/25/2021)
1-3 players: $84 total
4-15 players: $28 per person
Due to the pandemic, all games are currently private. Prices and structure may change in future dates, but the nominal amount of your gift voucher will never change.
Recommended recipients: adults and highschoolers. Those under 14 years old must have at least one 18+ year old on their team. Players must be at least 12 years old.
We are only doing email vouchers right now. Thank you for your understanding.
Already got one? Redeem here