Give the gift of adventure and an unique experience of puzzle solving with family, friends, or team building!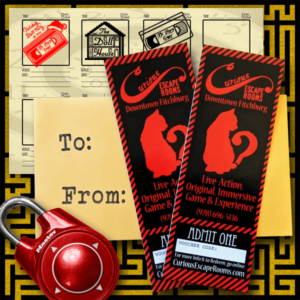 Curious Escape Rooms is a home of many different worlds for your pleasure, they may choose their own adventure:

• The Dollhouse
• Monster's Curse at the 90s Video Store (Open until Jan 1)
• Holiday Staff Party at the 90s Video Store (closed)
• The 90s Video Store (closed during seasonal games)
This season, you can now purchase physical Gift Tickets at the Bonfire Bookshop Winter Market!
Their hours are:
December 1-23, 2022: Wed-Fri 4pm-7pm; Sat-Sun 10am-3pm
January 1-6, 2023: Mon-Fri 4-7pm
Check Bonfire Bookshop's facebook for updates.
You can also purchase e-vouchers online to be emailed with a digital card:
Current private game prices
1-3 players: $84 total
4-15 players: $28 per person
Prices and structure may change in future dates, but the nominal amount of your gift voucher will never change. (Please confirm with booking page. Last updated, 12/16/22)
Recommended recipients: adults and highschoolers. Those under 14 years old must have at least one 18+ year old on their team. Players must be at least 12 years old.
Already got one? Redeem here